Biography:
People often say that The Wassabi Collective "plays into the crowd," or "rides the wave." This high-energy, progressive world beat group was created to deliver non-stop grooves to packed dance floors. Emerging from small beginnings in Penticton, British Columbia, the ensemble has managed to establish itself in many parts of Canada, playing major festivals and events with unprecedented success. The band has opened up for high-level players such as Randy Bachman, Hot Hot Heat, and Ras Trillos. Audience members and promoters have often said that this six-piece band is the best high-energy show to come out of B.C. in many years. The Wassabi Collective has thrived in the music scene because of positive attitude, solid musicianship, and creative approach.
People feel inspired by the Wassabi atmosphere. The music is uplifting and soulful, and the crowd is treated as a part of the show. Lyrics and themes are designed to empower and enlighten people, and the overall vibe is simple and pure. The members of Wassabi embrace interaction with the audience as a fundamental principal, and will spend a good portion of the show improvising to the mood of the dance floor. The musicians in the band are clearly there for the people, not for themselves. The mood of a Wassabi show is further enhanced by the poi (fire spinning) and belly dancing routines carried out by the "Wassabi Dancers."
Each musician in The Wassabi Collective has spent years studying a multitude of instruments. Interestingly, every person in the band is a former guitarist, except the current lead guitarist, who is a former drummer! This adaptable approach to playing music keeps the sound fresh and creative. At any point in the show, the members may switch instruments, which adds to the excitement and sheer entertainment of the show.
People are very excited about what The Wassabi Collective is doing. The independently released "Masquerade Sessions," a full-length live CD, has sold over 2000 copies in Canada since its release in the summer of 2002. The last year has seen a steady climb in popularity for the group, with over 150 shows, and crowds as large as 8,000. The Wassabi Collective continues to demonstrate that positive energy, hard work, and creativity can yield great results in the music industry.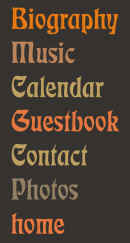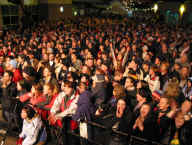 TWC plays for 8,000 New Years, 2003